First Baptist Church began in 1868 with a vision by group of Christians gathered in a small house. The group was not too far removed from the dark night of slavery.
Property was purchased on Franklin and Maxwell Streets in early 1877. On this property, a two-room frame building for worship was erected. Shortly thereafter, this building was destroyed by fire and a more substantial one was built under the pastorate of Reverend Turner.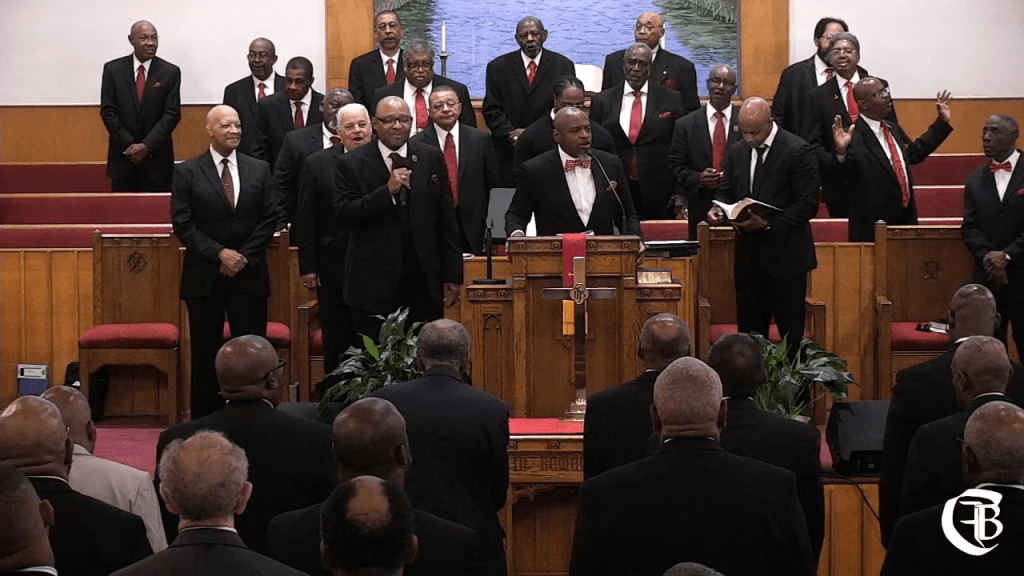 Between the years 1868 and 1895, the pastors who served the struggling young congregation were the Reverends Turner, Tyler, Fairley, Bayne (first names unknown), W. H. Andrews, N. W. Newsom, and R. H. Harris. Reverend George W. Moore served as pastor from 1895 to 1903 and organized and conducted one of the first schools for Negro children in the area called "Cedar Falls," which included the Moore Street area where the present church building is located.
Reverend Dr. Ezekiel Ezra Smith succeeded Reverend George Moore and served as pastor from 1903 to 1906. He was an outstanding educator and statesman. E. E. Smith High School is named in his honor. The stained-glass window, which presently adorns the front of the church sanctuary, was given by Dr. Smith in loving memory of his wife, Mrs. Willie Ann Smith. When the old church on Franklin Street was demolished, the window was saved and placed in the new building.
Reverend N.M. Newsome succeeded Dr. Smith in 1906 and served until 1908. He was a carpenter and contractor. Reverend James Scarlette succeeded Reverend Newsome in 1908 and served until 1918. Reverend R. H. Harris from Laurinburg, N.C. served as pastor a short time in 1918.
Reverend Hammond Glasgow Pope began his pastorate in 1919. He served until 1923 when he left to pastor in Philadelphia, Pennsylvania. Reverend Thomas H. Dwelle was called from the Tupper Memorial Baptist Church in Raleigh to pastor (1923-1952). Dr. Dwelle taught at E. E. Smith High School. Lincoln University in Pennsylvania honored him with an honorary degree, Doctor of Divinity in 1939. The main street into Topeka Heights is named for him. Dr. Dwelle was laid to rest in 1952 and is buried in Brookside Cemetery on Grove Street.
In 1953, Reverend Chancy Rudolph Edwards preached his first pastoral sermon that initiated a ministry that would span 37 years (1953-1990) in the history and life of First Baptist Church. Reverend Edwards was honored in 1963 with a Doctor of Divinity Degree from Shaw University for his outstanding work as a clergyman and leader.
Under the leadership of Dr. Edwards, the church grew and prospered. The new church building was completed and dedicated in 1963 at a cost of $300,000. This facility provided a nursery for infants and children up to six years of age. The Children's Church served children up to ten years of age.
In 1973 the 150-unit complex, Topeka Heights, was completed. This low and moderate income-housing complex was the first of its kind in Cumberland County. In 1974 another corporation was formed by the church to construct an 18-unit complex for the elderly, Edwards Place, in honor of Dr. C.R. Edwards. In 1976 the church added the North Wing, which houses the conference and choir rooms, costing approximately $100,000.
On the first Sunday in June 1991, Reverend Cureton Lee Johnson assumed full pastoral responsibility of First Baptist Church. He coined a phrase when he came to First Baptist: "With Christ, Your Future Is Brighter than Your Past". He began a process that emphasized a modern-day mission and vision. In 2000, Dr. Johnson earned the Doctor of Ministry Degree from Drew University in Madison, N.J. Under Pastor Johnson's leadership the members of First Baptist Church broke ground in 1999 for a two-million-dollar Christian center called Grace Place. The two-story facility includes 11,000 square feet of space, a library and learning center, nursery, children's church, kitchen, lounge, clothes closet and a multipurpose room for neighborhood development and outreach ministries. The church broke ground on what is now called the Sesquicentennial Hall on February 25, 2018. This two-million-dollar building was dedicated March 31, 2019. Dr. Johnson officially retired as Senior Pastor on January 27, 2019 and became Pastor Emeritus of First Baptist.
On the first Sunday in April 2019, Reverend Fredrick D. Culbreth preached his first sermon as the Senior Pastor of First Baptist Church. Reverend Culbreth was previously the pastor of Second New Light Missionary Baptist Church in St. Pauls, NC. In addition to his pastoral duties at First Baptist, he serves as the President of the Pastors and Ministers Conference of the Union Missionary Baptist Association. Reverend Culbreth is the 2019 recipient of the Rhythm of Gospel Pastors of Excellence Award.  In May of 2022, Dr. Culbreth earned his Doctor of Ministry degree from Campbell University in Buies Creek, North Carolina.
First Baptist Church is a Missionary Baptist Church and is active in the Union Baptist Association, the General Baptist State Convention of North Carolina, and the Lott Carey Foreign Mission Convention. Today, it is the oldest Missionary Baptist Church in the City of Fayetteville, N.C., with the newest vision among area churches: "Doing Bold New Things To Connect Fayetteville and the World to Jesus Christ."